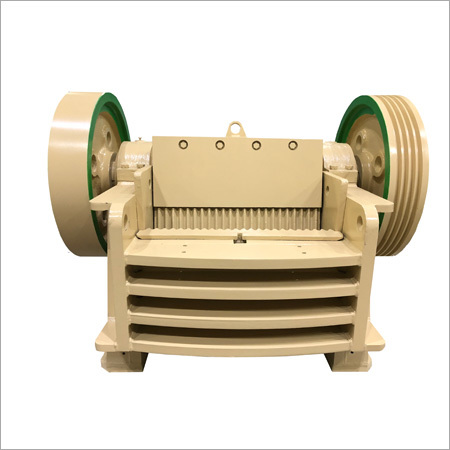 Stone Jaw Crusher Machine
Price And Quantity
Product Specifications
Stone Jaw Crusher

Stone Crushing , Iron Ore Crushing, Limestone Crushing, Granite Crushing ,Dolomite Crushing, Rock Bauxite Crushing.
Product Description
We have become one of the prime manufacturers of Stone Jaw Crusher Machine. This machine is reckoned for uncompromising design, high-productivity and sturdiness. The overall performance of the machine is characterized by the harmonious interplay of all the spares and components. This innovative solution of crushing the stones in efficient and uniform manner ensures high versatility in construction, ore and mining sectors. This tough and strong Stone Jaw Crusher Machine is ideal for primary and secondary application with the feed range starting from 150 mm. It is known for its sturdy structure, high strength as well as smooth functioning.
Stone Jaw Crusher Machine Features:
1) It is used widely in construction industries for crushing stones.
2) This machine ins capable of crushing rocks in diverse sizes and shapes.
3) Requires low maintenance and is easy to use.
4) Designed with modular design, high efficiency and dimensional accuracy.
Stone Crushing Machine Technical Details:
| | | | | | | |
| --- | --- | --- | --- | --- | --- | --- |
| Model | Opening | Max. Feed | Recommended Feed | Product Size | Capacity | Motor Power |
| 16 X 6/8 | 6/8'' | 200 mm | 180 mm | (-) 20 mm | 10-15 TPH | 30 HP |
| 16 X 10/12 | 10/12'' | 250/300 mm | 200/250 mm | (-)20/(-) 40 mm | 15-20 TPH | 30 HP |
| 20 X 8/10 | 8/10'' | 250 mm | 220 mm | (-) 20 mm | 20 TPH | 40 HP |
| 20 X 8/10 XTRONE | 10'' | 250 mm | 220 mm | (-) 20 mm | 20 TPH | 40 HP |
| 20 X 12/15 | 15'' | 375 mm | 320 mm | (-) 40 mm | 25 TPH | 40 HP |
| 24 X 8/10 | 8/10'' | 250 mm | 200 mm | (-) 20 mm | 25 TPH | 60 HP |
| 24 X 10/12 | 10/12'' | 250/300 mm | 200/250 mm | (-)20/(-) 40 mm | 25 TPH | 60 HP |
| 24 X 12/15 | 12/15'' | 375 mm | 320 mm | (-) 40 mm | 30 TPH | 60 HP |
| 24 X 20 | 20'' | 500 mm | 450 mm | (-) 125 mm | 50 TPH | 50 HP |
| 30 X 8 | 8'' | 200 mm | 180 mm | (-) 20 mm | 25 TPH | 60 HP |
| 30 X 12/15 | 15'' | 375 mm | 330 mm | (-) 150 mm | 100 TPH | 60 HP |
| 30 X 20 XTRONE | 20'' | 500 mm | 450 mm | (-) 150 mm | 100 TPH | 60 HP |
| 30 X 20 | 20'' | 500 mm | 450 mm | (-) 150 mm | 100 TPH | 60 HP |
| 30 X 24 | 24'' | 600 mm | 550 mm | (-) 200 mm | 120 TPH | 75 HP |
| 36 X 6/8 | 6/8'' | 200 mm | 180 mm | (-) 20 mm | 40 TPH | 75 HP |
| 36 X 6/8 XTRONE | 6/8'' | 200 mm | 180 mm | (-) 20 mm | 40 TPH | 75 HP |
| 36 X 10/12 | 12'' | 300 mm | 250 mm | (-) 20 mm | 40 TPH | 75 HP |
| 36 X 15 | 15'' | 375 mm | 320 mm | (-) 40 mm | 50 TPH | 75 HP |
| 36 X 21 | 21'' | 525 mm | 500 mm | (-) 150 mm | 120 TPH | 75 HP |
| 36 X 24 | 24'' | 600 mm | 550 mm | (-) 150 mm | 120 TPH | 75 HP |
| 36 X 24 | 24'' | 600 mm | 550 mm | (-) 150 mm | 120 TPH | 75 HP |
| 36 X 30 | 30'' | 750 mm | 700 mm | (-) 150 mm | 150 TPH | 100 HP |
| 42 X 6/8 | 6/8'' | 150 mm | 135 mm | (-) 20 mm | 40 TPH | 75 HP |
| 42 X 32 | 32'' | 800 mm | 700 mm | (-) 150 mm | 180 TPH | 120 HP |
| 42 X 36 | 36'' | 900 mm | 800 mm | (-) 150 mm | 250 TPH | 175 HP |
| 48 X 8 | 8'' | 200 mm | 180 mm | (-) 20 mm | 50 TPH | 100 HP |
| 48 X 40 | 40'' | 1000 mm | 900 mm | (-) 150 mm | 300 TPH | 200 HP |
Trade Information
Haldia , Paradeep

60-70 Per Month
1 Months

Contact us for information regarding our sample policy