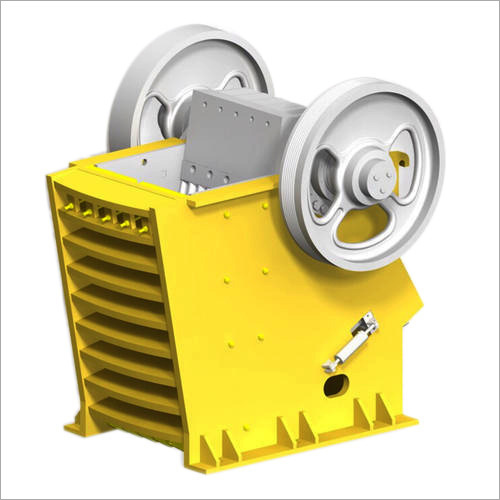 Primary Jaw Crusher
Price And Quantity
Product Specifications
Jaw Crusher

Stone Crushing , Iron Ore Crushing, Limestone Crushing, Granite Crushing ,Dolomite Crushing, Rock Bauxite Crushing.
20-300 TPH Cubic Meter (m3)

No
Product Description
Primary Jaw Crusher decreases the size of different types of materials in diverse applications. This heavy-duty machine is designed to use two motions for compressing and pushing the material through the crushing chamber. The size of the materials can be easily predetermined to ensure to get the accurate results with high-speed. It comes with the advanced features of easy maintenance, long-lasting life and cost-effectiveness. It is provided with a deep and symmetrical crushing chamber along with easy settings adjustment to provide the best results. Primary Jaw Crusher find its application in various industries and construction areas for crushing huge rocks and stones.


Features of Primary Jaw Crusher:
1) This machine is prepared using alloy and stainless steel material.
2) Our offered machine is robust due to heat treatment.
3) Provide resistance from heat, moisture, corrosion and wear & tear.
4) Checked on various parameters for assuring its longevity.


Specification:
| | | | | | | | | | |
| --- | --- | --- | --- | --- | --- | --- | --- | --- | --- |
| Model | Opening | Max. Feed | Recommended Feed | Product Size | Capacity | Motor Power | Shaft Grade | Body Thickness | Jaw Plate |
| 24 X 8/10 | 8/10' | 250 mm | 200 mm | (-) 20 mm | 25 TPH | 60 HP | EN 24 | 40 mm | Grade - III |
| 24 X 12/15 | 12/15' | 375 mm | 320 mm | (-) 40 mm | 30 TPH | 60 HP | EN 24 | 40 mm | Grade - III |
| 24 X 20 | 20' | 500 mm | 450 mm | (-) 125 mm | 50 TPH | 50 HP | EN 24 | 40 mm | Grade - III |
| 30 X 8 | 8' | 200 mm | 180 mm | (-) 20 mm | 25 TPH | 60 HP | EN 24 | 50 mm | Grade - III |
| 30 X 12/15 | 15' | 375 mm | 330 mm | (-) 150 mm | 100 TPH | 60 HP | EN 24 | 60 mm | Grade - III |
| 30 X 20 Xtrone | 20' | 500 mm | 450 mm | (-) 150 mm | 100 TPH | 60 HP | EN 24 | 50 mm | Grade - III |
| 30 X 24 | 24' | 600 mm | 550 mm | (-) 200 mm | 120 TPH | 75 HP | EN 24 | 50 mm | Grade - III |
| 36 X 6/8 Xtrone | 6/8' | 200 mm | 180 mm | (-) 20 mm | 40 TPH | 75 HP | EN 24 | 63 mm | Grade - III |
| 36 X 10/12 | 12' | 300 mm | 250 mm | (-) 20 mm | 40 TPH | 75 HP | EN 24 | 63 mm | Grade - III |
| 36 X 15 | 15' | 375 mm | 320 mm | (-) 40 mm | 50 TPH | 75 HP | EN 24 | 50 mm | Grade - III |
| 36 X 21 | 21' | 525 mm | 500 mm | (-) 150 mm | 120 TPH | 75 HP | EN 24 | 50 mm | Grade - VII |
| 36 X 24 | 24' | 600 mm | 550 mm | (-) 150 mm | 120 TPH | 75 HP | EN 24 | 63 mm | Grade - VII |
| 36 X 30 | 30' | 750 mm | 700 mm | (-) 150 mm | 150 TPH | 100 HP | EN 24 | 63 mm | Grade - VII |
| 42 X 6/8 | 6/8' | 150 mm | 135 mm | (-) 20 mm | 40 TPH | 75 HP | EN 24 | 63 mm | Grade - III |
| 42 X 32 | 32' | 800 mm | 700 mm | (-) 150 mm | 180 TPH | 120 HP | EN 24 | 63 mm | Grade - VII |
| 42 X 36 | 36' | 900 mm | 800 mm | (-) 150 mm | 250 TPH | 175 HP | EN 24 | 75 mm | Grade - VII |
| 48 X 8 | 8' | 200 mm | 180 mm | (-) 20 mm | 50 TPH | 100 HP | EN 24 | 63 mm | Grade - III |
| 48 X 40 | 40' | 1000 mm | 900 mm | (-) 150 mm | 300 TPH | 200 HP | EN 24 | 80 mm | Grade - VII |
Trade Information
Haldia. Paradeep

60-70 Per Month