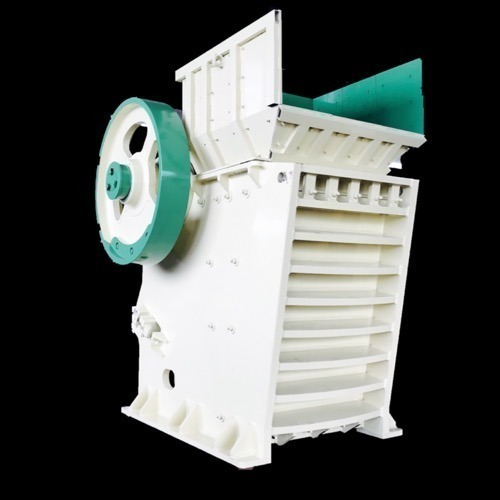 Jaw Crusher
Price And Quantity
Product Specifications
Automatic

Depends upon Capacity
Depends upon Capacity

Electric
Product Description
Jaw Crusher is a machine used to reduce large rocks into smaller sizes or dust. It is ideal for changing the form of stones, rocks and waste materials to make them usable. In addition to this, it also reduces the size of a solid mix to differentiate the pieces of different composition. It holds material between two solid surfaces located in parallel or tangent positions and applies sufficient force for bringing the surfaces together for generating energy to crush the materials. Jaw Crusher possess high performance efficiency, toughness and simple features. This product is high in demand for its long lasting service life and easy usage.


Jaw Crusher Features:
1) It is designed with adjustable features and seamless finishing.
2) This machine has a robust structure and compact size.
3) Our offered model is checked on diverse parameters for testing its workability.
4) Requires low maintenance and has smooth functioning.


Jaw Crushing Machine Technical Specification:
| | | | | | | |
| --- | --- | --- | --- | --- | --- | --- |
| Model | Opening | Max. Feed | Recommended Feed | Product Size | Capacity | Motor Power |
| 16 X 6/8 | 6/8'' | 200 mm | 180 mm | (-) 20 mm | 10-15 TPH | 30 HP |
| 16 X 10/12 | 10/12'' | 250/300 mm | 200/250 mm | (-)20/(-) 40 mm | 15-20 TPH | 30 HP |
| 20 X 8/10 | 8/10'' | 250 mm | 220 mm | (-) 20 mm | 20 TPH | 40 HP |
| 20 X 8/10 XTRONE | 10'' | 250 mm | 220 mm | (-) 20 mm | 20 TPH | 40 HP |
| 20 X 12/15 | 15'' | 375 mm | 320 mm | (-) 40 mm | 25 TPH | 40 HP |
| 24 X 8/10 | 8/10'' | 250 mm | 200 mm | (-) 20 mm | 25 TPH | 60 HP |
| 24 X 10/12 | 10/12'' | 250/300 mm | 200/250 mm | (-)20/(-) 40 mm | 25 TPH | 60 HP |
| 24 X 12/15 | 12/15'' | 375 mm | 320 mm | (-) 40 mm | 30 TPH | 60 HP |
| 24 X 20 | 20'' | 500 mm | 450 mm | (-) 125 mm | 50 TPH | 50 HP |
| 30 X 8 | 8'' | 200 mm | 180 mm | (-) 20 mm | 25 TPH | 60 HP |
| 30 X 12/15 | 15'' | 375 mm | 330 mm | (-) 150 mm | 100 TPH | 60 HP |
| 30 X 20 XTRONE | 20'' | 500 mm | 450 mm | (-) 150 mm | 100 TPH | 60 HP |
| 30 X 20 | 20'' | 500 mm | 450 mm | (-) 150 mm | 100 TPH | 60 HP |
| 30 X 24 | 24'' | 600 mm | 550 mm | (-) 200 mm | 120 TPH | 75 HP |
| 36 X 6/8Â | 6/8'' | 200 mm | 180 mm | (-) 20 mm | 40 TPH | 75 HP |
| 36 X 6/8 XTRONE | 6/8'' | 200 mm | 180 mm | (-) 20 mm | 40 TPH | 75 HP |
| 36 X 10/12 | 12'' | 300 mm | 250 mm | (-) 20 mm | 40 TPH | 75 HP |
| 36 X 15 | 15'' | 375 mm | 320 mm | (-) 40 mm | 50 TPH | 75 HP |
| 36 X 21 | 21'' | 525 mm | 500 mm | (-) 150 mm | 120 TPH | 75 HP |
| 36 X 24 | 24'' | 600 mm | 550 mm | (-) 150 mm | 120 TPH | 75 HP |
| 36 X 24 | 24'' | 600 mm | 550 mm | (-) 150 mm | 120 TPH | 75 HP |
| 36 X 30 | 30'' | 750 mm | 700 mm | (-) 150 mm | 150 TPH | 100 HP |
| 42 X 6/8 | 6/8'' | 150 mm | 135 mm | (-) 20 mm | 40 TPH | 75 HP |
| 42 X 32 | 32'' | 800 mm | 700 mm | (-) 150 mm | 180 TPH | 120 HP |
| 42 X 36 | 36'' | 900 mm | 800 mm | (-) 150 mm | 250 TPH | 175 HP |
| 48 X 8 | 8'' | 200 mm | 180 mm | (-) 20 mm | 50 TPH | 100 HP |
| 48 X 40 | 40'' | 1000 mm | 900 mm | (-) 150 mm | 300 TPH | 200 HP |
Trade Information
Contact us for information regarding our sample policy

Standard